Cardboard Box Pallets in all sizes
Among the top products of the Emmepi box factory there are Box Pallets, packages made with the same dimensions as the pallet (e.g. 80x120 and 100x120 cm) and with any height.
The boxes can be produced with any type of cardboard, even 3 waves: they are in fact very suitable also for the shipment of heavy or bulky products, such as motors or electrical panels. They are boxes widely used in the field in mechanics.
The Emmepi box factory will be able to have very competitive prices for these products, as the newly installed Casemaker can produce these boxes in one step, thus saving considerable time for production: all this savings will affect the final cost of the box that will thus be very competitive compared to boxes with the same characteristics, but not produced with the latest generation machinery.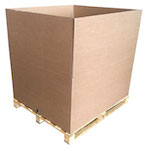 Scatolificio Emmepi Box Factory, Vinci, Florence, Italy - Cardboard Box Pallets with custom print and no height restrictions
Privacy and Cookies Usage
✕
Treatment of personal data
According to current Italian laws and with reference to personal data obtained or to be obtained in the future, we indicate the following:
The obtaining and use of personal data (name and surname; company name, telephone and email) has the exclusive purpose of permitting us to adequately answer to informations requests or other inquiries and to fulfill Purchase contracts;
Such data are treated either on computer or on paper in a manner that is licit and correct, respecting the law; they will be stored for not longer than 12 months;
The data will not be disclosed to third organizations;
The data can always be updated, modified, completed or held back from use: you simply need to contact us per e-mail (s.emmepi@scatolificioemmepi.it).
The title holder of your data is: , Via Ciambellana 1 - 50050 S. Ansano - Vinci (FI), Italy.
We use reasonable and appropriate physical, technical and administrative safeguards to protect personal data from unauthorized access and use, loss, misuse or unauthorized alterations. We will use reasonable efforts to protect personal data stored on our servers from unauthorized access, using both commercially available computer security products and carefully developed security procedures.
Cookies Usage
"Cookies" are small pieces of data sent from a website and stored in the user's web browser.
This website uses "third-party cookies" set and administered by external websites (Google Maps, Google Analytics) for the functioning of the Google Map and the Google Analytics service; for more informations about contents and usage of cookies set by these external websites please refer to their pages about cookies policy.
Directions on how to cancel or disable cookies are provided in the Help system of your web browser.